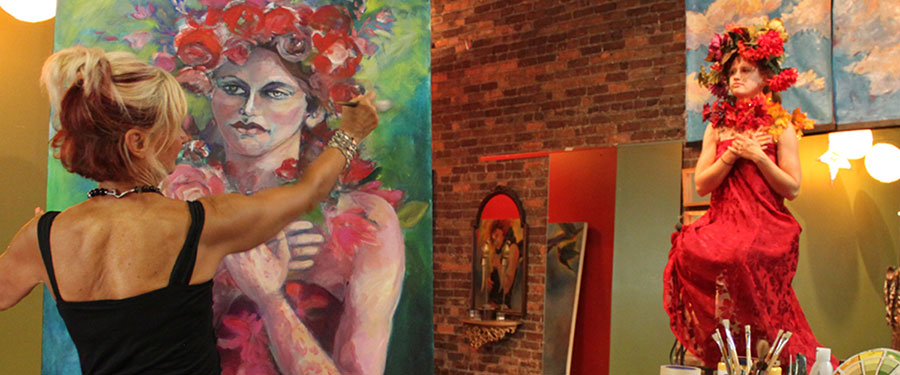 About The Artist Avé Madiol Veneklasen
Ave' Madiol Veneklasen is an artist in love with color and beauty, working primarily as a painter, but who has a strong love of drawing. She was born in Chicago Illinois where both of her parents originated. Her father James Arnold Madiol is from a long line of Dutch Artists, and his colorful stories inspired Ave; from a very young age.
She grew up in New Buffalo Michigan where she lived with her mother's Italian extended family, in the woods near the shores of Lake Michigan. Later she moved to Gand Rapids Michigan where she completed her education at Grand Valley University with a BFA in Fine Art in 1977. She moved to Jackson Michigan in 1982. Ave's career has spanned 4 decades and during that time she has been actively creating and exhibiting. She focused primarily on the figure, hosting life drawing weekly in her studio open to students and professional artists. but was also doing Plein air landscape painting during the warmer months. She taught Painting at Jackson Community College as well as doing many workshops and events, in collaboration with artists from other genres, at her studio, Studio DeeplyArt, in Jackson Michigan.
Most recently she has relocated to Grass Lake Michigan where she has a studio on Little Wolf Lake. Inspired by the incredible beauty all around her, the focus of her work has shifted to primarily landscape, but her love of the feminine figure, and its expressiveness continues.
She gives private lessons and hosts exhibits and artists gatherings, believing that creative collaboration elevates our growth and expands our awareness of the beauty in and all around us.
---